---

New member,
Joe DeLaney
, built the Model Shipways Rattlesnake, out of the box. The yellow box, solid precarved hull. It's only his second model. It's superb with beautiful paintwork.

Take a look
.

More to come from Joe.
---

Justin Camarata has migrated from shipmodel building to marine art. Here are some of his recent works.

---

HMS Agamemnon Caldercraft kit under construction by Paul Goldberg. Beautiful work on the stern and side galleries.

---

Bob Siegler's 1/4" Hannah being built by the Harold Hahn. A brass bell and lots of boxwood frames.

---

J.C. Kerr steam powered,stern paddle wheeler being scratch built(who would ever find a kit of this ship) in 1/4" scale by Bill Strachan. Come back often and see the progress piece by piece by.......

---

Ron Neilson's build of the Amati's of HMS Revenge of 1577. Another of Ron's Cecil B. DeMille grand scale productions.

---

Three models by Tom Kane. The Arctic explorer Gjoa, a harbor tug and a favorite subject of the club; the whaleboat.

---

Bill Neligon's 17th century,(1609) Portuguese merchant ship. A Mamoli 1:40 scale kit.

---

Here are some of Fred Kerson's nautical memorabilia from antique shop, flea markets and moving sale. Fred is one of the most interesting members in out club and always fascinates us with the story of the objects he brings in from
his collection.

---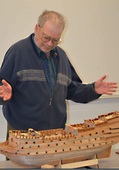 Back by popular demand. Fred Kerson's 1/72 scale model of Soveriegn of the Seas from the Mantua kit. In Fred's unique style, he discarded the wood form the kit and replaced it with balsa. He then put a patina finish on the 700+ brass fittings. Here's the result with work in progress.

---
Jack Dillon's whaleboat from Model Shipways kit at 3/4"= 1'

---

Peter Carlin's build of the Model Shipways kit of the Emma C. Berry. The scale is 3/8"= 1" and is highly modified.

---

The Hudson River side wheel paddle steamer with walking beam engine Armenia. Before any wood is cut, Sal DeGennaro is first modeling the steamer on Autodesk. Here are some screen shots.

---

USS Peacock, scratchbuilt in progress by Al Saubermann

---